Leveraging LinkedIn InMail Ads for B2B Outreach
Aug 29, 2019
Social Media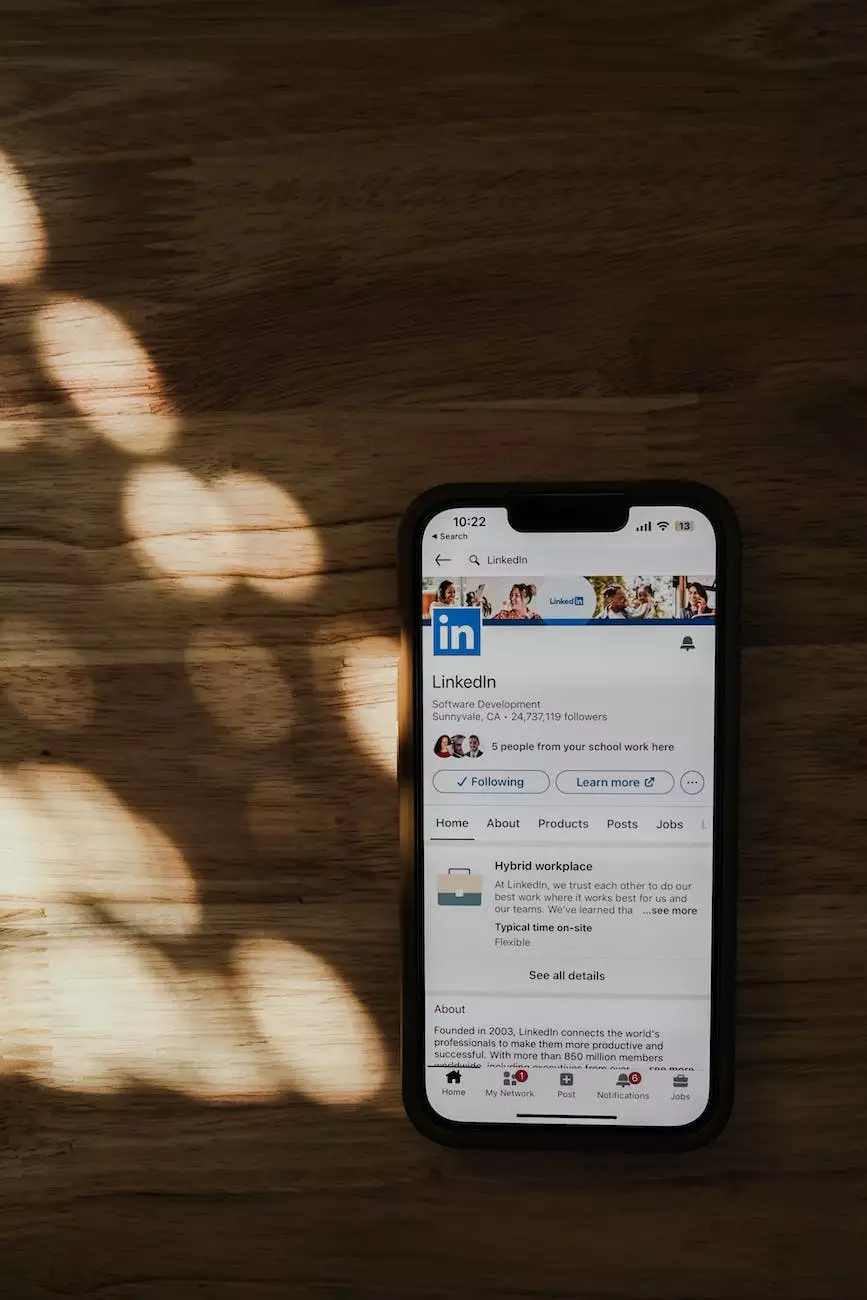 Welcome to North Ridgeville SEO's comprehensive guide on leveraging LinkedIn InMail Ads for B2B outreach. In this article, we will dive deep into the world of LinkedIn advertising and provide you with valuable insights on how to effectively utilize LinkedIn InMail Ads to reach your target audience and boost your business growth.
Introduction to LinkedIn InMail Ads
LinkedIn InMail Ads are a powerful advertising solution offered by LinkedIn, the largest professional networking platform. These ads allow businesses to reach their target audience directly through personalized messages delivered to their LinkedIn inbox. Leveraging LinkedIn InMail Ads can significantly enhance your B2B outreach efforts and drive valuable leads for your business.
Why Choose LinkedIn InMail Ads?
LinkedIn InMail Ads offer several advantages over traditional advertising methods. Here are some key reasons why you should consider leveraging LinkedIn InMail Ads for your B2B outreach:
Targeted Reach: LinkedIn has over 774 million professionals, making it an ideal platform to connect with decision-makers and professionals in your industry.
Personalized Messaging: InMail Ads allow you to craft personalized messages tailored to your target audience, increasing the chances of engagement and conversions.
Mobile Accessibility: LinkedIn mobile usage has been steadily increasing, ensuring that your ads can reach professionals even when they are on the go.
Rich Media Capabilities: LinkedIn InMail Ads support various media formats such as images, videos, and documents, enabling you to deliver engaging content to your audience.
Best Practices for Leveraging LinkedIn InMail Ads
To optimize the effectiveness of your LinkedIn InMail Ads, it's important to follow some best practices. Here are some tips to help you make the most out of your B2B outreach efforts:
1. Define Your Target Audience
Identify your ideal target audience based on industry, job title, company size, and other relevant criteria. This will ensure that your InMail Ads reach the right professionals who are more likely to be interested in your offerings.
2. Craft Compelling Subject Lines
The subject line is the first thing your audience sees, so make it attention-grabbing and compelling. A strong subject line can significantly improve the open rates of your InMail Ads.
3. Personalize Your Messages
Take the time to personalize your InMail messages for each recipient. Address them by name and mention specific details that show you've done your research. Personalization helps establish a connection and increases the likelihood of a positive response.
4. Provide Value and Benefits
In your InMail Ads, clearly communicate the value and benefits your target audience will receive by engaging with your business. Highlight how your solutions can solve their pain points or help them achieve their goals.
5. Utilize Visual Content
Include visually appealing images and videos in your InMail Ads to capture your audience's attention. Visual content can convey your message more effectively and increase engagement rates.
6. Create Compelling Call-to-Action
End your InMail messages with a clear and compelling call-to-action (CTA) that prompts the recipient to take the desired action. Make your CTA stand out by using actionable words and creating a sense of urgency.
7. Test and Optimize
Continuously test and optimize your InMail Ads to determine what performs best for your target audience. Experiment with different messaging, visuals, CTAs, and targeting criteria to improve your campaign's effectiveness.
By following these best practices, you can maximize the impact of your LinkedIn InMail Ads and achieve better results for your B2B outreach campaigns.
Partner with North Ridgeville SEO for Expert SEO Services
If you're looking to enhance your B2B outreach strategies and drive organic traffic to your website, North Ridgeville SEO is here to help. We are a leading provider of SEO services in the business and consumer services industry. Our team of experienced professionals has the expertise to craft compelling content, optimize your website, and improve your search engine rankings.
With a tailored approach and a focus on driving results, North Ridgeville SEO can take your business to new heights. Contact us today to learn more about our services and how we can assist you in leveraging LinkedIn InMail Ads for B2B outreach effectively.
Remember, success in B2B outreach requires a well-rounded strategy, and LinkedIn InMail Ads can be a valuable addition to your marketing efforts. Start implementing these strategies today and watch your business grow!